THIS IS HOW THE BUILDING BLOCKS OF 9TEAMS LOOK LIKE ...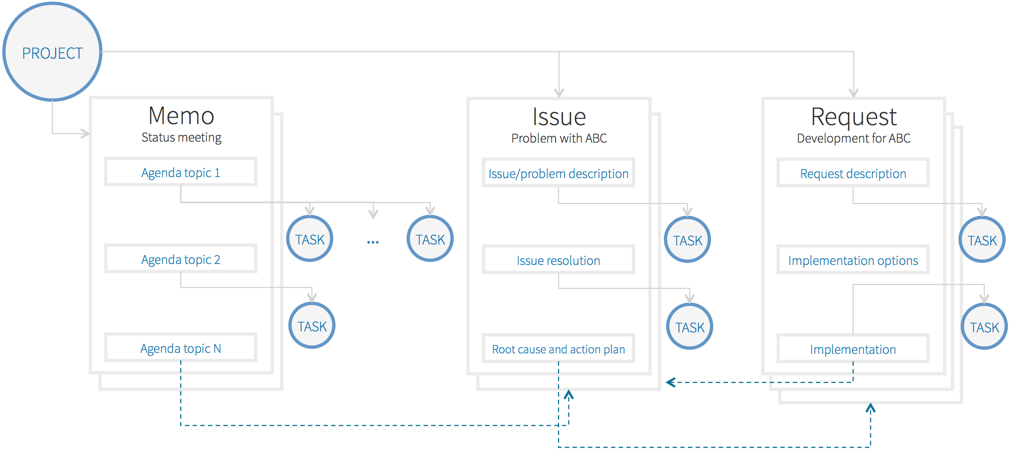 ORGANIZATION
The top level building block in 9teams is an organization. Each organization is a completely separate container of information and data can never be exchanged between organizations.
In an organization, we know
I - projects
II - documents and topics
III - tasks
I - PROJECTS
Within an organization, one or more projects can be defined. There are lots of reasons to create a project: to track larger and complex initiatives that may include multiple stakeholders, centralize application service related work and information, a business transformation initiative, …
On the level of a project we can define the project member structure, key milestones, work packages and budget, project risks, ... A wide range of options for progress and status (time, budget, scope) tracking are available.
Projects store 9teams documents (see here below).
II - DOCUMENTS and TOPICS
Within the scope of a project, 9teams documents of different categories have to be created: memo, request, issue, … The 'look and feel' is the same, but the behavior is specific for that document category.
A document should always have one or more topics. By means of a topic you can group the content and tasks of your document in a structured way that makes sense. This will provide higher transparency and easier lookup.
III - TASKS
Tasks break down your 9teams document into actionable steps. Tasks can be to-dos, questions, requests for validation, conversations, … Tasks always have at least an owner and a due date.
COMBINE 9TEAMS BUILDING BLOCKS TO COVER YOUR PROJECT NEEDS
9teams has been built to handle collaboration over multiple complex projects. Documents and document categories, are a key concept to support diverse and large projects where multiple stakeholders are involved. Hence, by combining different document categories a transparent and flexible structure can be built, in order to support your project needs.
The scheme here below shows that within the scope of a project, different documents from different categories can be stored. Each document category has its own specific characteristics and behavior.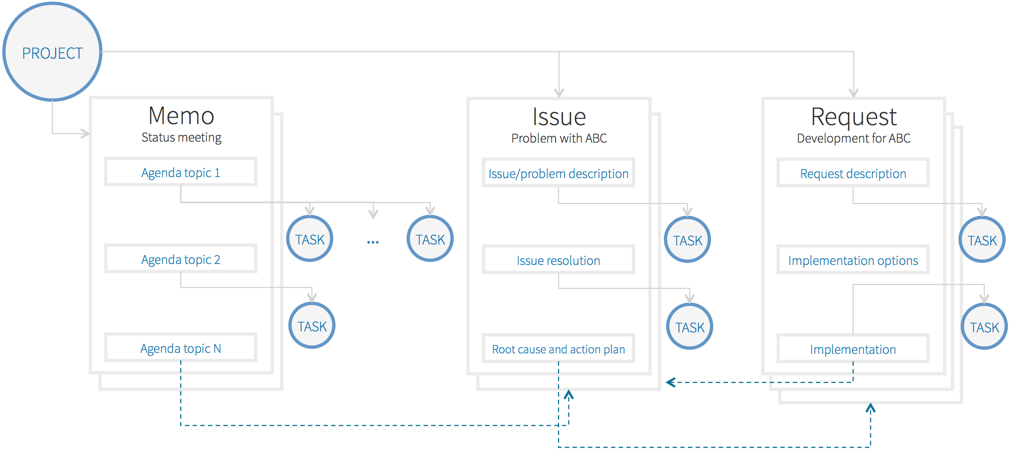 9teams also offers additional mechanisms to bring more structure in your projects. These mechanisms are optional and should only be used when required.